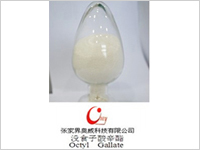 Octyl gallate
Name: gallate, octyl ester
Chemical name: Octyl 3,4,5-trihydroxybenzoate
Structural formula:
Molecular formula and molecular weight: C15H22O5 ; 282.33
CAS NO: 1034-01-1
Property: This product is white or milky white powder; odorless. Almost insoluble in water, easily soluble in methanol, soluble in acetone, ethanol, ether and propane-1,2-diol, slightly soluble in peanut oil and chloroform
Melting point°C: 100~102
Uses: Used as antioxidant additives in oil esters, cosmetics and pharmaceutical preparations.
Storage: Store in a closed container and avoid light, no contact with metal.
Packing: Cardboard drum for external use, plastic bag for internal use, net weight 25 kg per drum.