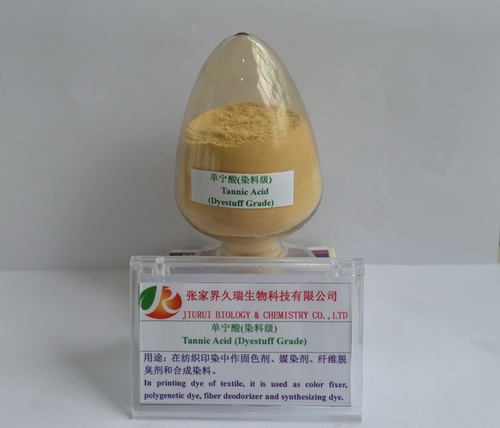 Dye Tannic acid
Product Name: Dye Tannic acid
Alias: Tannic acid, tannin, gallic tannin
Molecular formula: C 76 H 52 O 46
Molecular weight: 1701.18
CAS NO: 1401-55-4
Property: This product is light yellow to light brown powder with special odor and extremely astringent taste; it is soluble in 1 part of water or ethanol, soluble in acetone, and insoluble in chloroform or ether.
Quality Index: The product meets the national standard LY/T 1300-2005.
Uses/Method of use: Used as fixing agent, mordant, fiber deodorant and synthetic dye in textile printing and dyeing.
Storage: Avoid moisture and light, sealed tightly
Packing: paper drum lined plastic bag, net weight 25 kg per drum